Yoon Jin-Myung (Han Ye-Ri) parties and drinks with elders each night. She exposes her work licensing to attendants. They admires her. Yoon Jin-Myung knows their feeling and gives them a big smiling.
Age of Youth Season 2: Episode 4 Recap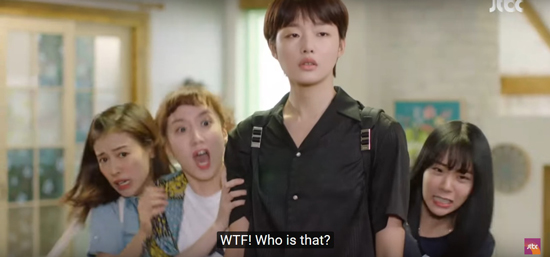 Song Ji-Won (Park Eun-Bin)'s classmate is going to get marry. but she is still a virgin. Yoo Eun-Jae (Ji-Woo) is going to attend a party which her ex-boyfriend will come. What she should do?
See Also: Age of Youth Season 2: Episode 1 Recap
Jo Eun (Choi A-Ra) backs home. She sees Seo Jang-Hoon (Kim Min-Suk) who doesn't wear clothes. Seo Jang-Hoon is landlady's grandnephew. He gets lost and enters those girl's house. He takes a bath in the bathroom and doesn't wear clothes while out of bathroom. He returns bathroom after seeing Jo Eun.
After Song Ji-Won returns house, Jo Eun begins to vomit. Because she reminds Seo Jang-Hoon's body.
Yoo Eun-Jae (Ji-Woo) discovers a new movie which describes a man cannot forgets his ex-girlfriend and removes his memory. Yoo Eun-Jae meets Yoon Jong-Yeol in the classroom and imagines the movie plot lines. She thinks Yoon Jong-Yeol will cry and miss her after watching the film. However, he picks up with another classmate in the party.
Song Ji-Won attends the wedding, she hears her friend dropping out from bride. After returning, she forces Im Sung-Min (Son Seung-Won) to marry her.
See Also: Age of Youth Season 2: Episode 2 Recap
Seo Jang-Hoon is embarrassing when he meets Jo Eun again. She escapes from him immediately and forgets her things. Seo Jang-Hoon takes her things and visits the girl's house. He meets Jung Ye-Eun (Han Seung-Yeon) and tells her that he knows she met violence while dating.
Seo Jang-Hoon wants to explains the bathroom matter to Jo Eun, but she refuses to listen. Because she cannot forget the moment all alone. Hence, he has to leaves. He meets Jo Eun's friend An Ye-Ji (Shin Se-Hwui) at the gate. He wants to give her some helps, but she drives him away. However, Jo Eun cannot holds An Ye-Ji's trouble. He helps her on the end.
An Ye-Ji thinks Jo Eun betrayals her since she move out. She drinks wines and is drunk in Jo Eun's house. When she wakes up, she sees Jo Eun sitting next to her. An Ye-Ji forgives her while she drinks water.
Jung Ye-Eun tells roommates she is going to back home alone. However, she sends a message to Yoo Eun-Jae and let her to pick her while she meets a strange man in the bus. Yoo Eun-Jae falls asleep in the sofa. At this time, Jo Eun sees the message and picks Jung Ye-Eun.