In the second episode of I Am Not a Robot Kdrama, Jo Ji-A has to pay off the debt from Jo Jin-Bae so that she has place to live. Her ex-boyfriend Hong Baek-Gyun promises her to pay off her debt if she can work for him for just 3 hours to pretend to be a robot.
I Am Not a Robot Kdrama: Episode 2 Recap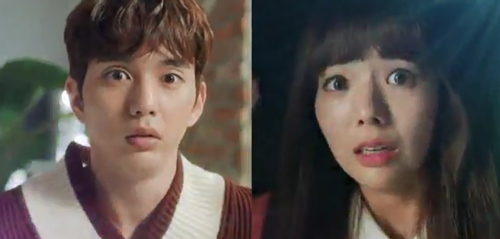 Kim Min-Kyu (Yoo Seung-Ho) wants to use Aji 3 (Chae Soo-Bin) next day after knowing she is a robot but has function of human, although Hong Baek-Gyun thinks she needs at least one month to be trained. Kim Min-Kyu breaks into Hwang Yoo-Cheol's meeting and denies the offer of selling Daeyang Shipbuilding which is Hong Baek-Gyun and his team "Santa Maria".
Hong Baek-Gyun talks about the selling of his company with his team members and thinks he will get $500,000 if it's sold successfully. However Hoktal breaks Aji 3 with a can of beer while the robot is in maintaining.
Jo Jin-Bae yells at his younger sister Jo Ji-A who doesn't get a job and borrowed $10,000 from his wife, and throws the birthday cake which she bought for him. Jo Ji-A tells his older brother that she tried to find a job, but there isn't any company wants to hire her.
Hong Baek-Gyun asks Kim Min-Kyu to give him two days to test Aji 3 since Pi tells him that the new Aji 3 will arrive in two days, but Kim Min-Kyu tells him that his team and Daeyang Shipbuilding will be sold to a UK company in two days.
Jo Ji-A gets a call from Hong Baek-Gyun while she is drunk and doesn't recall him since they were couple before. She blames him for not listening to her saying, that why they broke up. He knows she need $10,000 and decides to give her if she can work for him about 3 hours next day. It's interested offer, however she is shocked after she knows he made a robot based on her.
Sun-Hye persuades Jo Ji-A to take the job and thinks her ex-boyfriend still loves her, but Jo Ji-A thinks the idea is crazy. Then she finds out she has to do because Jo Jin-Bae refuses her to go home until she pays off her debt. Kim Min-Kyu finds out that he lost his necklace and recalls he and Jo Ji-A had a fight before, he thinks she took his necklace, hence he calls her. But Jo Ji-A is learning how to act like a robot.
Jo Ji-A finds out she connects with Aji 3 and thinks it's amazing after Pi places contact lens on her eyes. She thinks Hong Baek-Gyun still loves her when he orders Aji 3 to say, "I love you!" But he denies it and thinks Aji 3 is better than her.
Jo Ji-A gets a call from Kim Min-Kyu on the road to his house, she thinks he is going to pay her money back, but he wants her to return his necklace which she thinks she didn't take. They fight in the phone. Hong Baek-Gyun orders her to turn off her phone after knowing she takes her phone to see Kim Min-Kyu and worries she messes the task.
Jo Ji-A is shocked after she knows his client is Kim Min-Kyu when she arrives his house.