Nam Hong-joo (Bae Suzy) cries in the ward. She hopes it's a dream and cannot face the truth. She kills her mother. She isn't the driver. Nobody can prove her innocent.
While You Were Sleeping: Episode 2 Recap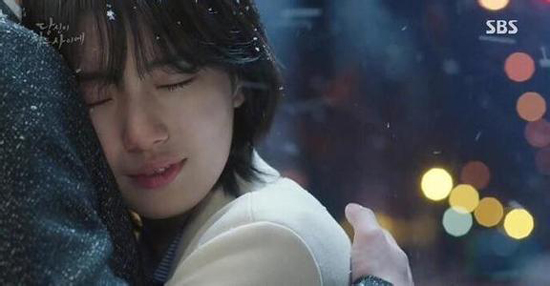 Jung Jae-chan (Lee Jong-suk) is to deal with her case. He tells Nam Hong-joo that she sits on the main driver's seat according to Lee Yoo-beom (Lee Sang-yeob)'s testimony. There is no doubt that Lee Yoo-beom lies. He exchanges his seat with her and escapes his responsibility while she is coma and polices don't arrive. Nam Hong-joo cannot explain it clearly. Her mother is dead. She becomes murderer. She doesn't know what she can do. She lies in her bed and chooses to kill herself.
See Also: Suzy Celebrates her 23rd Birthday with Fans
At this time, Jung Jae-chan wakes up from the dream. He wipes the perspiration from his temples and is curious why he dreams Nam Hong-joo. He knows the traffic accident, Lee Yoo-beom escapes his responsibility and Nam Hong-joo's mother death are just his dream. He finds things happening just like his dream. So, he warns her to not close to Lee Yoo-beom and drive car on snowy day. However, she ignores it and leaves. She thinks he is a stalker. Hence, he has to block Lee Yoo-beom's road and hopes it can help her. However, fate cannot be changed by him.
See Also: While You Were Sleeping: Episode 4 Recap
Jung Jae-chan sees they enter the car. Lee Yoo-beom is the main driver. Nam Hong-joo is co-driver. He realizes she is innocent. He lets his younger brother call the police. However, it's too late. Hence he drives his car to stop the car accident in person.
Lee Yoo-beom did the same thing on Jung Jae-chan when they were young. He drives his motorcycle and cause an accident and frames Jung Jae-chan. Jung Jae-chan tries his best to stop it. If he doesn't arrive to risk his life, the accident happens. Nam Hong-joo's mother will be dead. She will kill herself. Lee Yoo-beom doesn't believe what he says, but Nam Hong-joo knows he saves her life. She looks at him in the snow and closes to him. Just like the dream, she leans on his arms.