In the second episode of Start-Up, Won-Deok brings bread to Ji-Pyeong and mistakes that he visited her because he has no place to sleep. He brags that he's very rich. So she asks him if he gets married. He denies. She thinks it's a problem.
Start-Up: Episode 2 Recap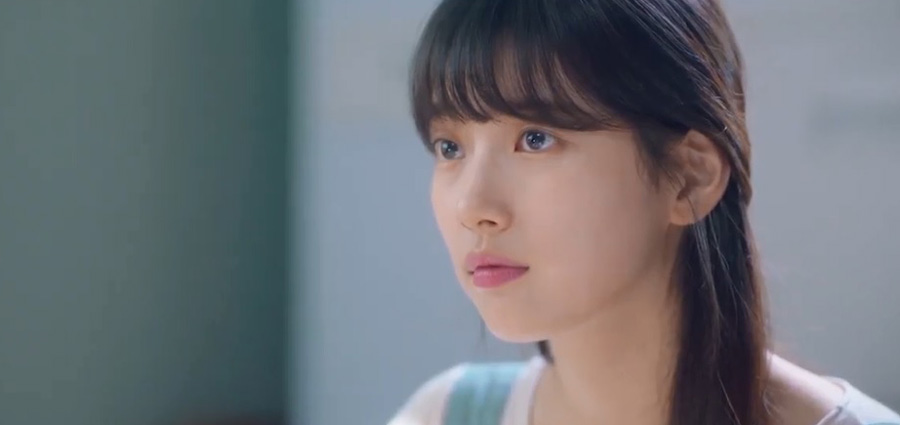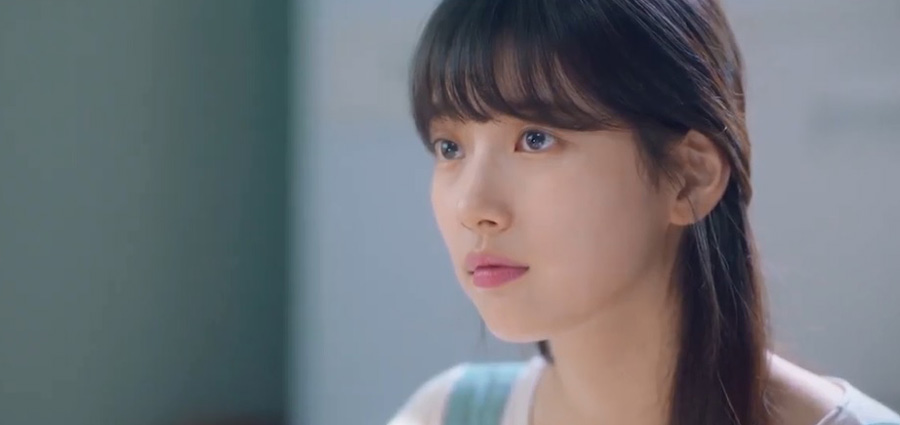 Ji-Pyeong explains that he is busy. But she doesn't believe what he said. He wants to repay her because he took the money away. He thinks she can open a store with the money. But she points out that the money belonged to him, and drives him away. He gives her his business card and tells her to call him. but she rips the business card.
Won-Deok tells Ji-Pyeong not to show off if he's rich enough. He agrees to it and tells her not to leave. She laughs to wipe the bread piece from his mouth. He takes bread and leaves.
Won-Deok returns home. Dal-Mi checks the newspaper and tells Won-Deok that he intends to find Do-San and take him to the party. She thinks he lives in Seoul according to his handwriting. Won-Deok stops Dal-Mi and tells her to treat him as a old friend and move on. But Dal-Mi rejects it and thinks he's very nice.
But Won-Deok thinks Do-San is a loser and he doesn't like Dal-Mi. Dal-Mi says that she will take Do-San to see In-Jae. Won-Deok asks Dal-Mi if she doesn't want to get defeated by In-Jae. Dal-Mi yells at Won-Deok that she must win her sister for her dad. She is in tears and tells her that she wants to prove what she chose was right.
Won-Deok grabs Dal-Mi's hand to comfort her. Dal-Mi tells Won-Deok that In-Jae is going to leave so that she must win her. Dong-Chun tells Ji-Pyeong that he has a visitor. Ji-Pyeong refuses to see the person because they don't have an appointment. So Dong-Chun gives the business card to Ji-Pyeong.
Ji-Pyeong runs to see Won-Deok. She gives him the corn dogs and asks him to find Do-San for her. But he points out that he cannot find him because the person was made up by him. He takes her to his office and brings a cup of tea to her. He learns what happened and thinks Dal-Mi is so stupid to tell the lies.
But Won-Deok points out that Dal-Mi didn't lie because she believed there is a person named Do-San in the world. She mentions she and Ji-Pyeong saw Do-San in the newspaper. Ji-Pyeong remembers the scene and thinks it's very hard to find him. Won-Deok yells at Ji-Pyeong that she has no reason to visit him if it's easy to find Do-San.
Ji-Pyeong thinks Dal-Mi should ask her ex-boyfriend to do that. But Won-Deok points out that Dal-Mi never had a boyfriend because of Do-San.
It flashes back. The guy asks Dal-Mi out with the tickets. But she rejects it and tells him that she doesn't have any time. Won-Deok asks Dal-Mi why she rejected the guy since she intended to watch the musical. Dal-Mi thinks the guy is rude because he didn't ask her first before he ordered the tickets. She adds that Do-San won't do that. Won-Deok is in pain.
Dal-Mi tells the guy what the kiss is after watching a movie with him. But he disagrees with what she said. So she ends the relationship. Dal-Mi wipes the floor and thinks Do-San wouldn't do that. Won-Deok is furious but she has to release the anger into her work.
Ji-Pyeong hears what Dal-Mi did, and thinks Won-Deok shouldn't lie to Dal-Mi. But she thinks it's his fault. But he points out that he just helped her. She admits it and tries to leave. He stops her and promises to look for Do-San. But he is told that he only has five days.
Dal-Mi and In-Jae wake up at the same time. But what they wear are so different. Dal-Mi runs into Shin Jeong who tells her that there're a lot of people there because of the concert. Dal-Mi thinks it's her chance and ties her hair. Because she wants to break a new record.
In-Jae meets with A-Hyun in the cafe. The waitress pours the tea for A-Hyun. A-Hyun asks Waitress about In-Jae, and mentions she keeps looking at for phone since they haven't met for a long time. The waitress explains that her husband did something. A-Hyun says that In-Jae is like her stepfather.
The people crowd in the coffee shop. The seller cannot deal with the situation. She asks Dal-Mi for help. Dal-Mi asks the girls what they want, and turns on the music. The girls thrill when Dal-Mi waves to them. She tells them that she is a fangirl, and gets them to line up.
Dal-Mi breaks the new record. The colleagues applaud and praise Dal-Mi. Seo-Hyun reminds Dal-Mi that the record belongs to them. Dal-Mi isn't happy. Manager Jung thinks Dal-Mi is going to replace her. Dal-Mi comforts Manager Jung that she's not better than her. Human Resources Manager shows up and praises Dal-Mi. She bows to him.
A-Hyun tells In-Jae that she doesn't want to see her stepfather Doo-Jung. But In-Jae points out that her father paid for everything which A-Hyun wears. A-Hyun blames In-Jae for calling Doo-Jung father because he cheated on her. She regrets leaving Chung-Myung. In-Jae invites A-Hyun to her networking party and tells her that Dal-Mi will be there.
Ji-Pyeong walks into the office and tells Dong-Chun to look for Do-San. Dong-Chun remembers the guy because he keeps sending them his business plans. Ji-Pyeong decides to visit Do-San even if he's not good enough.
Do-San's father Seong-Hwan visits Do-San. Do-San gets his friends to turn on the light. Seong-Hwan knows his son is in the room and tells him to open the door. Geum-Jung hints Seong-Hwan to irradiate the room with a flashlight. Do-San and his friends try their best to hide. Geum-Jung thinks her son isn't in the room and intends to leave with her husband.