In the third episode of Crash Landing on You, Wol-Suk asks Se-Ri why she hid in Jeong-Hyeok's house when she is kidnapped by the soldiers. Cheol-Gang tells Wol-Suk that he can make Se-Ri speak when she arrives at his office. Jeong-Hyeok drives the car arriving, and walks to Se-Ri.
Crash Landing on You: Episode 3 Recap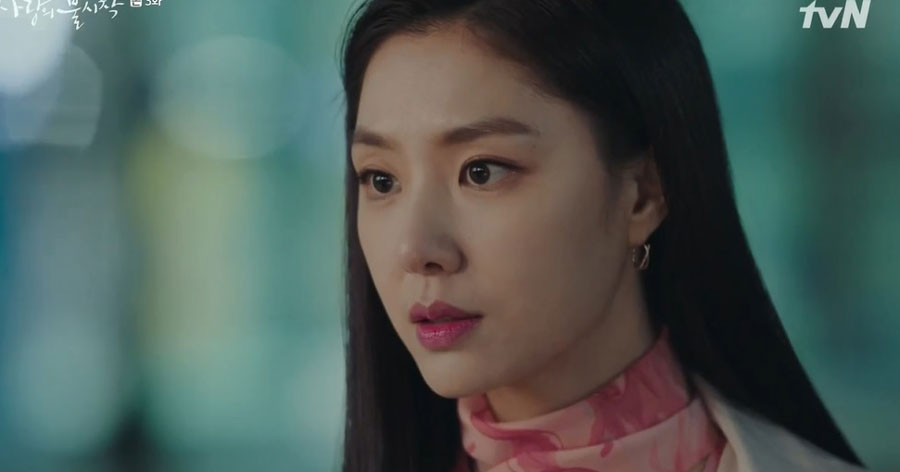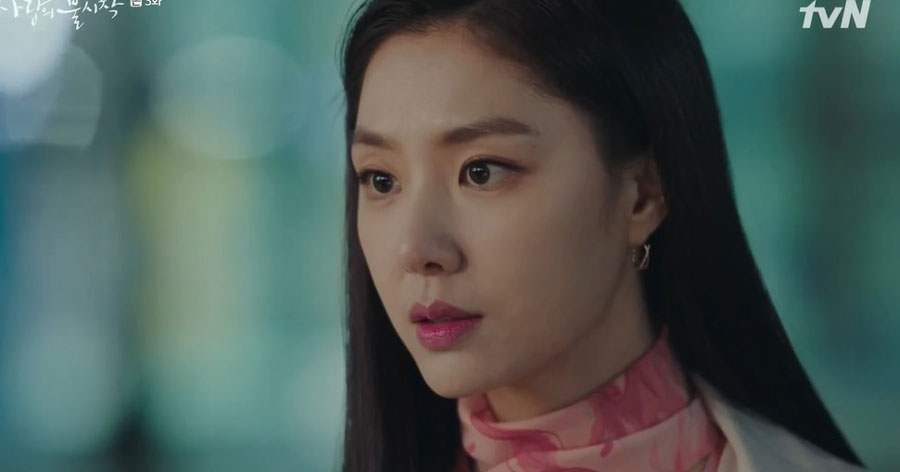 Cheol-Gang points his gun at Se-Ri. Jeong-Hyeok tells Cheol-Gang to put the gun away, and reveals Se-Ri is his fiancee. Cheol-Gang does it. Jeong-Hyeok catches the chance to take Se-Ri to his side. Cheol-Gang doesn't believe what Jeong-Hyeok said and wants to see Se-Ri's entry pass.
Kwang-Beom thinks Jeong-Hyeok will solve the case. But Chi-Su worries that Jeong-Hyeok confessed. Jeong-Hyeok tells Cheol-Gang that Se-Ri belongs to Division 11, and claims that he cannot reveal the details. Ju-Meok tells people that Jeong-Hyeok never lied. Chi-Su complains that people should lie at the right time.
Jeong-Hyeok tells people that Se-Ri needs to rest, and they need to get into the house. Se-Ri leans her head on his shoulder.
Jeong-Hyeok pushes Se-Ri away after they left people. He tells her that she can stop. She explains that she was immersed because he called her fiancee. He tells her that he didn't have other options. Se-Ri treats it as an improvised and mentions Wol-Suk was so surprised. But he walks away.
Se-Ri follows Jeong-Hyeok and asks him what is Division 11. But he gives water to her and tells her to calm down. He feels sorry for getting her in danger. But she says that it's fine because he arrived at the right time. He asks her if she was hurt. She denies. He tells her that he told people that she's a spy.
Se-Ri gets angry and worries that people will find out it was a lie. He reminds her that she is going to leave. But she still doesn't to be labeled as a spy.
Young-Ae takes the ladies to visit Jeong-Hyeok. The ladies give him many foods and think he cannot carry them alone. They want to get into the house. But he stops them as he doesn't need any help. Se-Ri shows up and takes over the corns.
Young-Ae learns that Se-Ri comes from Division 11 and asks what task she's doing. Se-Ri says that she thinks Young-Ae knew the reason why she cannot tell it to her. Young-Ae laughs and claims that she's not silly.
Jeong-Hyeok closes the door. Se-Ri follows him to go inside. She hears the ladies think Jeong-Hyeok doesn't like her. Se-Ri asks Jeong-Hyeok why he will explain it to the ladies after she leaves. He points out that they cannot ask him. She mentions he didn't say anything when they wanted to get in the house.
Se-Ri tells Jeong-Hyeok to tell people that he got dumped when he's asking about their love relationship. He promises it. She asks him not to date any woman after she leaves for half a year. She adds that he shouldn't eat and smiles. It makes him mock her. But he denies it when she asks him about it.
See Also: Crash Landing on You: Episode 2 Recap
Jeong-Hyeok wants to leave and tells Se-Ri to have a good night. But she keeps him because she worries that people will break into the room again.
Se-Ri sleeps on the floor and thanks Jeong-Hyeok to give her the chance to undergo it. He tells her not to take nonsense and thinks she should sleep. She says that she cannot fall asleep while thinking about what happened to her. She mentions she saw the piano sheets on the bookcase. He takes a look at his piano diploma. We see him playing piano by the lake.
See Also: Crash Landing on You: Episode 4 Recap
Se-Ri asks Jeong-Hyeok if he played piano before and he had a girlfriend who played piano. He doesn't reply to her. It makes her think he did it before.
Seo Dan gets off the plane and arrives at the airport. But her suitcase bumps Seung-Jung's suitcase. She leaves when she sees her uncle Myeong-Seok. Seung-Jung looks at Seo Dan's back and thinks she's pretty. Su-Bok reminds Myeong-Seok to pay attention to his behavior as he worries that he will get caught. Myeong-Seok stops Su-Bok with his money.
Myeong-Seok walks Seo Dan and thinks she worked hard as he noted that she lost weight. But she tells him that she intended to do that. He laughs and thinks she doesn't have to do that.
The thieves stole the car brush from Myeong-Seok. Myeong-Seok gets the follower to install the brush. Seo Dan asks his uncle about the car. He tells her that he lent it to someone. She gets angry and asks who did that. He's nervous and tells her it was Jeong-Hyeok.
Seo Dan asks Myeong-Seok if he intends to take the car. He says that he will get someone to do that. She says that she will do that as Jeong-Hyeok knew she's back. But he tells her that he didn't tell to Jeong-Hyeok because he didn't ask him about it.
Myeong-Seok thinks Seo Dan won't recognize Jeong-Hyeok. She is furious to scold him and gets into the car. The thieves stole the windshield wipers. Seung-Jung gets into the car and enjoys the rainy day. He notes the windshield wipers are missing and blames the driver for it. The driver thinks the thieves stole his windshield wipers.
Seung-Jung yells at the driver that he cannot see anything. But the driver says that he can do that. Su-Bok reveals it happens frequently and they can handle it. Seung-Jung yells at the Su-Bok that the car is driving fast.
Cheol-Gang visits Man-Bok asks him to find out if Jeong-Hyeok is Mu Hyeok's brother. He adds that they must be careful because Jeong-Hyeok is very smart. Man-Bok reveals he can hear everything in the house if he installs the bug. Cheol-Gang tells Man-Bok that there is a woman living in Jeong-Hyeok's house, and tells him to watch her.
Cheol-Gang tells Man-Bok that they can use Se-Ri to ruin Jeong-Hyeok's family. He promises to send his son to university.