Mao Xiao Tong and Mike D. Angelo Star 'Delicious Destiny'. This Chinese drama is about a chef Li Yu Zhe (Mike D. Angelo) and a writer Song Jia Ming (Mao Xiao Tong)'s love.
Recap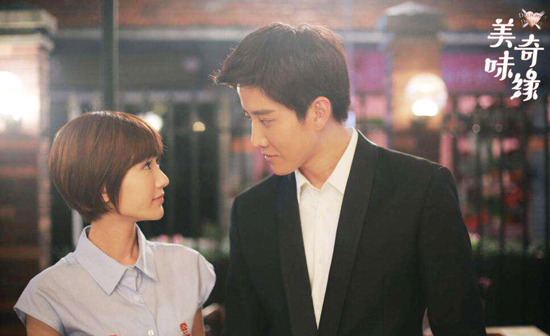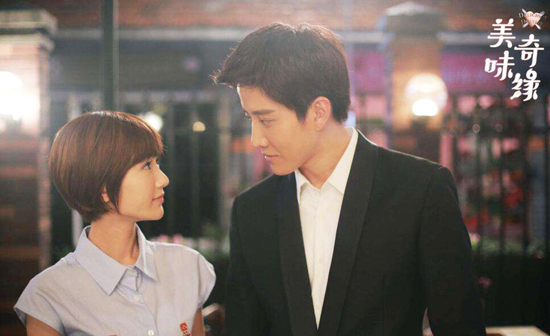 Song Jia Ming approaches Li Yu Zhe because he is very famous chef and suitable for her gourmet show. Li Yu Zhe refuses it firstly but he agrees it and falls in love with her eventually. Song Jia Ming doesn't love him at all in the beginning because she thinks they comes from a different world. She loves her superior Zhao Han (Zhang Yu Jian) who always helps her without requiring any pay back. However, Zhao Han loves Ye Li Lan (Chen Xin Yu) and is full of revenge in his mind. Ye Yi lan loved Li Yu Zhe since she was a child. Ye Yi Lan is rich and beautiful. Hence, Li Yu Zhe's parents like her and let them engage.
Review
I truly dislikes Mao Xiao Tong's role Song Jia Ming in 'Delicious Destiny'. On one hand She enjoys Li Yu Zhe's love, on the other hand she wants Zhao Han to notice her. She is nice to everyone expect him, even if he betrays his family for her.
Ye Yi Lan (Chen Xin Yu) is my favorite role in 'Delicious Destiny'. Not only because she is stunning and rich, but also she is loyal to her love.
Starring
There are many famous Chinese actresses and actors in Chinese drama 'Delicious Destiny'. The top 3 is Mao Xiao Tong, Mike D. Angelo and Chen Xin Yu.
Mao Xiao Tong: She is known as 'The Princess Weiyoung'. She acts Li Changru who is Li Weiyang (Tiffany Tang)'s sister and enemy.
Mike D. Angelo: He is known as Wu Xin: The Monster Killer. He acts Bai Liu Li who always supports Wu Xin and is strong. We are going to reveal this drama's detail soon.
Chen Xin Yu: She is known as Ice Fantasy. She acts Chao Ya who is a female warrior and fighter for Ka Suo to defeat Yuan Ji.