In the 3th episode of Black Knight Kdrama, Jung Hae-Ra meets Moon Soo-Ho again, he becomes her landlord. Black Knight buys her previous house even if he knows it may bring him bad luck. At this time, witch Sharon finds her destined lover and wants to break the spell.
Black Knight Kdrama: Episode 3 Recap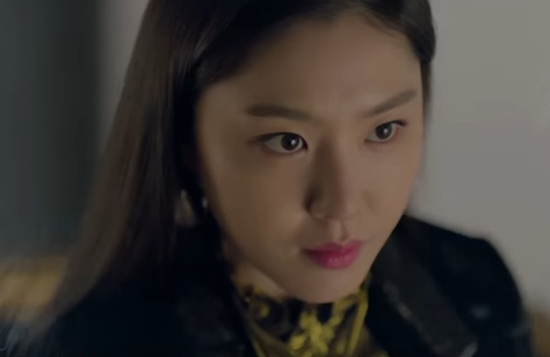 Jung Hae-Ra tells Moon Soo-Ho that she will move out once she finds new house after knowing he is her new housemate. He says that it's her choice. Meanwhile, she asks him, "Is your name Moon Soo-Ho?" He accepts it and asks her why she doesn't come since he was waiting for her. She doesn't reply him directly.
See Also: Black Knight Kdrama: Episode 1 Recap
Lee Sook-Hee really likes her new house, but Jung Hae-Ra doesn't allow her to touch the items in the house and reveals they are going to move out. Her aunt asks her why, she replies that she feels uncomfortable. At this time, Moon Soo Ho walks in and asks her why she feels uncomfortable. She doesn't answer him and goes out. However, Jung Hae Ra is blocked by door. He tells her he can open the door for her and invites her to have lunch next day. She accepts it, but he leaves and doesn't open it. She find the door isn't locked.
Jung Hae Ra find the building is in maintenance when she wants to take a break in her office. She has to go to Sharon's house and asks her for a rest. Sharon gives the clothes which she made for Jung Hae Ra and has a drink with her.
See Also: Black Knight Kdrama: Episode 5 Recap
Jung Hae Ra recalls Boon Yi who drinks the wine also and asks Sharon, "Did you steal my boyfriend before?" Sharon replies that she stole her lover before and she is going to steal it back this time. Jung Hae Ra lets her do that. Meanwhile, Choi Ji-Hoon is training is black gym and shows his shape to Jung Hae Ra through phone. Jung Hae Ra shows it to Sharon and reveals he is her ex-boyfriend. Sharon wants to steal him.
Moon Soo Ho decides to buy Jung Hae Ra's previous house, although his assistant suggests that the house may bring bad fortune. However, he insists on purchasing as he promised to her before. Moon Soo Ho takes Jung Hae Ra to have lunch. She asks him why he is interested on her since she is poor. He tells her that she is charming as she has beautiful smiles.
See Also: Black Knight Kdrama: Episode 11 Recap
Moon Soo Ho asks Jung Hae Ra, "Will you attend Seoul Neighborhood Project?" She recalls Director orders them to attend the project even if they have tons of works to do. He takes 10 minutes to explain to her the project, she thinks it's a good idea.
Sharon is shocked while Moon Soo Ho drives and passes through. She realizes he is the man who is looking for. Park Gon's father also looks at Sharon strangely, it seems like he knew her before. Choi Ji-Hoon waits Jung Hae-Ra out side her office with flowers while she is off duty. She throws the flowers towards street and tells him that they are end.
Moon Soo-Ho's assistant gives Jung Hae-Ra the tablet which contains the photos Moon Soo-Ho shot for her in Slovenia. The assistant reveals his boss is busy in business right now. Jung Hae-Ra is envy of Moon Soo-Ho after knowing he is a successfully businessman.
Lee Sook-Hee visits Kim Young-Mi's shop and asks her why she gave Jung Hae-Ra so many clothes. Kim Young-Mi says she didn't do it and guesses Sharon did it, and tells Lee Sook-Hee that Sharon and Jung Hae-Ra are good friends. Meanwhile, Sharon goes to Kim Young-Mi's shop. Lee Sook-Hee recalls she saw her in the photo many years ago and finds that she doesn't get old.
Jung Hae-Ra cooks dinner for Moon Soo-Ho to thanks what he did except his lies. He asks her if they are couple, she denies it. Sharon visits Jang Baek-Hee while she is talking about aging in the classroom as a teacher. Sharon thinks she need to be very low-key about her past and tells her she meets the man. Jang Baek-Hee reveals she killed Moon Soo-Ho and Jung Hae-Ra 100 years ago.
Sharon feels chilly while Soo-Ho and Jung Hae-Ra visit her. She recalls what Jang Baek-Hee told her that she has to make 1,000 clothes and one wedding dress while they get marry for Jung Hae-Ra to get Moon Soo-Ho's heart.